A review of "The Smart Girl's Guide to the G-Spot" by Violet Blue.
The sex-ed book,
"The Smart Girl's Guide to the G-Spot"
, was not only very informative, it was also hugely entertaining. The author, Violet Blue, has a writing style all her own. She manages to impart a good amount of solid information without once coming across as stodgy or clinical. I actually found myself laughing quite a bit as I was reading. I now understand why Violet Blue is such a successful person. After reading this book, I want to read more of her work. Fortunately, Violet Blue has written and edited
over a dozen books
on sex and sexuality, so I will have plenty to read.
Violet Blue is a best selling, award-winning writer, columnist, blogger and web celeb. She has been interviewed on, quoted by or featured prominently in such media outlets as The Oprah Winfrey Show, Forbes.com, Newsweek, NPR, CNN, The Wall Street Journal, SXSW: Interactive, and Google Tech Talks. In 2008, she was named as one of
Wired's 25 Faces of Innovation
, and in 2010, The London Times named Violet Blue as one of the
"40 bloggers who really count"
.
Violet Blue lists her profession as a "wetware hacker" and states that her sexual orientation is "binary". Her NSFW blog,
"Tiny Nibbles"
, is subtitled "Open Source Sex", which is also the name of her
podcast series
. She chose the name "Open Source Sex" for
"the intersection of technology and sex, and the free-flowing information exchange of the open source software movement."
As someone who is married to a software engineer, I really appreciate the concept of open source sex. (BTW, I listened to and really enjoyed her podcast "Open Source Sex 86: How to Flirt with Geeks")
In
"The Smart Girl's Guide to the G-Spot"
, Blue explains all about the female g-spot in her uniquely informative style. The male g-spot (or p-spot) is mentioned, but this book is all about the FEMALE g-spot. She covers what the g-spot is, where it is, how to stimulate it, and other fun things to do with it. Here is a list of the chapters and their sub-headings. (I am preserving her own non-capitalization of chapter titles; it's not a typo.)
vii introduction: thoughts on becoming supreme master overlord of your g-spot

chapter 1: get smart
What's the Big Deal?, What the G-Spot Is, What the G-Spot Isn't, The Male G-Spot, Myths, Why it's a G

chapter 2: what's inside a girl
Anatomy, Spot Mapping, How to Get There from Here, What the G-Spot Looks Like

chapter 3: turn it on, turn it up
Your Arousal Cycle, How to Stimulate Your Spot, How it Feels, Sex Toys, Lube, "Good to be Wrong" by Alison Tyler

chapter 4: g-spots are for sharing
Talk about It, G-Spot Massage, G-Spot vs. Strap-On, Sex Positions for G-Spot Stimulation, "Found" by Alison Tyler

chapter 5: wet spots: ejaculation
What's Going On Here, How to Ejaculate, How to Stop, Ejaculation Techniques, Wet Spots and Creative Solutions, "Down to Business" by Alison Tyler

chapter 6: faster, deeper, more!
G-Spot Play with Vibrators, G-Spot Play with Anal Sex, G-Spot Play with Oral Sex, G-Spot Play with S/M and Power Play, G-Spot Play with a Fist, "Pervert" by Alison Tyler

chapter 7: shopping and further study
Online shopping, More Online Resources, Highly Recommended Reading, Recommended Viewing, Safe Sex Info

about the author
Throughout the book, when talking about sex and sexual partners, Blue alternates between discussing masturbation, M/F sex, and F/F sex. So whether you are a woman looking to learn more about your own body, a bi female or lesbian wanting to find out more about both yourself and your female partner, or a man wanting to learn how to please your woman, this book will include information and descriptions that are relevant to you.
The book is mainly text, but does have a couple of anatomical diagrams to help show you where exactly the g-spot is. Even though the book includes all the necessary information about the female g-spot, I would have liked a little more clinical data. I'm one of those weird people who actually likes reading research articles. For most people, I imagine that the amount of information in this book would be very satisfactory.
The
erotic short stories
by
Alison Tyler
that are included as fictional examples of g-spot play are interesting and arousing. "Good to be Wrong" is about a pair of lesbians experimenting with g-spot masturbation. "Found" and "Down to Business" are both about heterosexual encounters in a hotel and an office respectively. "Pervert" involves some medical role-playing and power play between a man and a woman.
The book itself is a nice quality trade paperback. It is 8" tall by 5.5" wide, and is 131 pages long. The front of the book is very simple, consisting of a white background with part of a female torso(bottom of the breasts to the top of the mons pubis) laying across the middle. The title is written partly across the girl's torso and partly on the white area beneath, and the author's name is listed on the bottom right corner. The back cover has basically a mirror reversed image of the front cover with the standard blurb written across it. This is not a discreet book, and unless you like shocking people, it is probably best read in the privacy of your own home.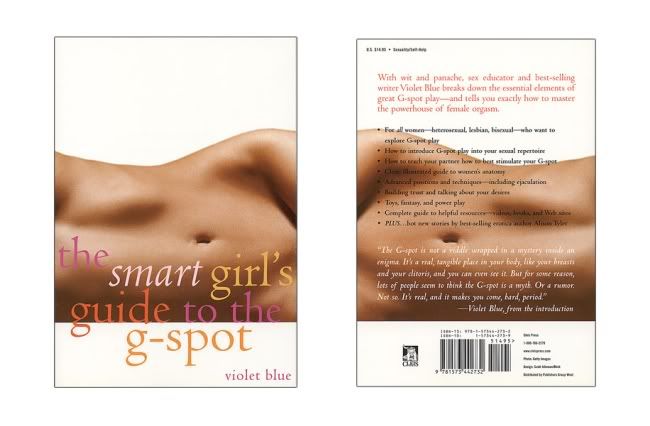 I read this book in one sitting and thoroughly enjoyed it. I kept having to explain to my husband, who was sitting next to me reading his own book, what I was laughing about. I would occasionally share the more interesting tidbits of information with him, and he kept leaning over my shoulder to read my book instead of his. It made for a fun evening.
I would highly recommend
"The Smart Girl's Guide to the G-Spot"
to anyone, male or female, who wants to learn more about the female g-spot. You can buy a copy at
EdenFantasys.com
, and if you use promo code:
THR
, you can get 15% off of this book and any other regularly priced items.
I hope you found this review useful. If you would like to help me keep writing reviews, please vote on this review at my
Eden Fantasys review page
.
I received this book for free as part of a
Naked Reader Book Club
promotion. This review is in compliance with the
FTC guidelines
.