A review of "Carnal Machines: Steampunk Erotica" edited by D. L. King.
If your first taste of erotica leaves you unsatisfied, give it another chance. You might be pleasantly surprised. I was.
I was very excited to receive my copy of
"Carnal Machines: Steampunk Erotica"
edited by D. L. King. It was to be the first book of
erotica
that I ever read. When the book arrived, I was actually in the middle of re-reading my favorite steampunk trilogy(Martha Well's
"The Fall of Ile-Rien"
), and not wanting to quit before finishing the series (again), I decided I had to wait to read "Carnal Machines". However, I could not resist taking a quick peek at what was in store for me. I glanced through the table of contents and picked one of the shorter stories to read. Unfortunately, I chose "The Perfect Girl" by Jay Lawrence.
It was bad. I mean really, really bad. I was devastated. I had been so excited about delving into the realm of erotic fiction, and this was what it was like? I was so disillusioned with the idea of erotica that I didn't even want to read the other stories, fearing that they would be just as horrible. However, I had bought the book, so I wasn't simply going to discard it. Therefore, after I finished reading Wells' steampunk trilogy, I went back and started reading "Carnal Machines" from the beginning, which is what I should have done in the first place. After all, the editors of anthologies spend a lot of time deciding which stories should be placed in which order. To read the stories out of order is to ignore their careful work.
Once I read the book the way it was meant to be read – from the beginning – I actually liked it. I liked it a lot. In almost any anthology, there are going to be a few stories that you love and a few stories that you just don't like that much. Fortunately, in
"Carnal Machines"
, almost all of the stories were well-written, entertaining and, to some degree or another, arousing. Unfortunately, most of the authors, though adept with
erotica
, seemed to have little idea of what steampunk is actually about.
Steampunk is not about what people actually did or might have been able to do with steam powered engines during the Victorian era. That would simply be historical fiction -- which is what I would call most of these stories. Steampunk is about an alternate version of the Victorian era in which magic and alchemy work in combination with Newtonian physics to create a sci fi/fantasy version of a real period in history. Although I really enjoyed the vast majority of these stories, I would not actually call them steampunk. At least not the kind of steampunk that I know and love.
In my opinion, only the first story, "Human Powered" by Teresa Noelle Roberts, truly fits within the genre of steampunk because of its combination of alchemy and mechanical engineering. The last story, "The Succubus" by Elizabeth Schechter, could also be considered steampunk in a way. Although no mention is made of magic or alchemy, the mechanical contraption in the story could not exist without seriously altering the laws of reality. Needless to say, these stories are also my two favorite stories in the anthology.
In "Human Powered", a female scientist consults a male colleague on improving her alchemical/mechanical device for harvesting the energy of sexual frustration. Sexual desire overwhelms scientific curiosity leading to a steamy sex scene (steampunk – steamy; it had to be done) with a "powerful" climax.
The second story, "The Servant Question" by Janine Ashbless is very cleverly written. An attentive reader will pick up on clues given early in the story and will feel a certain satisfaction in accurately predicting what is to come.
"Sleight of Hand" by Renee Michaels is a fun little story about a thief whose nemesis traps and tames her in a most interesting way.
Set on a retro-futuristic wooden spaceship, "Mutiny on the Danika Blue" by Poe Von Page demonstrates the discrepancy that can exist between public and private behavior in a BDSM relationship. Although I thoroughly enjoyed this story, the steampunk elements seemed to have been tacked on simply to make the story eligible for this anthology. A traditional ocean going ship from an actual time in history where women were considered men's property would have been a more appropriate setting.
"Deviant Devices" by Kannan Feng is one of the many stories in this anthology that focus on describing the functions of a steam powered sex engine. Fortunately, the characters of Victoria and Mercer and the development of their relationship more than make up for the not terribly original steam engine elements.
My least favorite story, "The Perfect Girl" by Jay Lawrence, is a rather lame story told from the perspective of a girl in a brothel who can't make up her mind about what she wants. It attempts to be clever, but fails horribly in my opinion.
"Dr. Mullaley's Cure" by Delilah Devlin is one of two stories that deal with a certain Victorian "treatment" for hysterical women. In this case, one that involves quite a variety of steam powered sex toys.
"Her Own Devices" by Lisabet Sarai has, in retrospect, a very clever title. She also has some sly, tongue-in-cheek foreshadowing in her story which is set in Victorian Hong Kong. It is yet another story that describes steam powered sex toys, but this one has a clever twist to go with the clever title. I was also impressed that the author actually knew how to properly remove a Victorian corset. So many writers get it wrong.
In "Lair of the Red Countess" by Kathleen Bradean, a bored gentleman adventurer finds new realms to explore while under the control of a powerful woman. Some people may find the slightly non-consensual elements at the beginning of this story disturbing, but frankly, I think he deserved to be taught a lesson – one that he thoroughly enjoyed.
"Infernal Machine" by Elias A. St. James features yet another steam powered sexual device, though no one understands what this one is at first. Discovering its secrets proves both exciting and frightening for a pair of male lovers in Paris.
"Doctor Watson Makes a House Call" by Essemoh Teepee is the second story in this anthology that features the Victorian treatment for hysterical paroxysm in women. And yes, the Dr. Watson in this story is the sidekick from the Sherlock Holmes stories, but this story is nothing like a Sherlock Holmes mystery.
In "The Treatment" written by the editor of this anthology, D. L. King, a woman harvests the energy of young men's sexual frustration. Frankly, I did not like this story. The young men are not seen as people, but as resources to be used, and the non-consensual elements of their "treatment" disturbed me. Also, though not as important a concern, a Chinese woman is described as using chopsticks to hold up her hair. Would you use a fork to comb your hair? Asian hair sticks may superficially resemble chopsticks, just as a fork may superficially resemble a comb, but they are NOT the same thing. I know that this is a very small detail, and one that most people would not even notice or care about; but it seriously annoyed me and made it hard for me to get back into the story.
"Lucifer Einstein and the Curious Case of the Carnal Contraption" by Tracey Shellito is a light hearted mystery in which a female detective must track down a perpetrator of pleasure. Yet again, mechanical sex toys play a major role in the story. Although there are some non-consensual elements to this story, they are very mild, and the "victims" are more delighted than damaged.
The very last story in this anthology is probably my favorite – "The Succubus" by Elizabeth Schechter. Told from the first person point of view, the narrator leads us beyond the facade of a respectable woman's home to the slightly sinister siren that inhabits the upper rooms of the house. Mystery surrounds this steam powered succubus, but she is aware of everything that occurs within the House of the Sable Locks. "The walls have already whispered his secrets to me..." She speaks of her power and ability with a detached omniscience that creates a delightfully disturbing atmosphere for this story of domination and desire.
At the end of the book are several pages which give brief biographies of the various authors, as well as a slightly longer biography of the editor, D. L. King. King is both a successful writer and editor. She has edited three books of erotic short stories, as well as publishing and editing "Erotica Revealed", an erotica review site. She has authored numerous short stories which can be found in a variety of anthologies, and she has written two novels of female domination.
The book itself is a very nice trade sized paperback (5.5" x 8"), printed on high quality paper with an attractively designed slick cover. The cover features a photograph of a slightly inhuman looking woman wearing a pair of steampunk goggles. If not for the word "Erotica" in relatively small print on the cover, it would not be apparent what type of book this was. A portion of the front picture covers the far left side of the back cover. The words, "Full Power Erotica" are printed in a slightly larger than average font above the standard blurb, which rather creatively follows the contours of the woman's picture as it descends the page.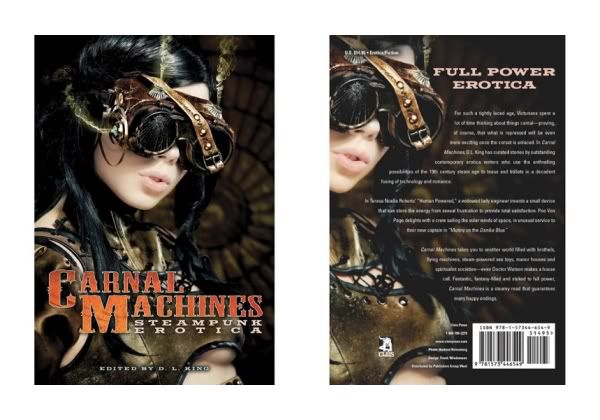 So, although I wouldn't read this book in the office (and who wants to read erotica in the office anyway?), it should be safe to read in most public settings. It is not completely discreet, but it does not scream erotica.
After my initial disappointment with that one story, I really enjoyed reading
"Carnal Machines"
. I've since read a couple of other erotic anthologies and understand a bit more about erotica in general. Although, I still say that most of the stories in "Carnal Machines" do not fit my definition of steampunk, they are, nevertheless, fun and arousing erotic stories. If you like
erotica
, you will probably like this book. If you like Victoriana, you will probably like this book. If you like steampunk, you may or may not be disappointed with most of the stories, depending on how flexible your expectations are when it comes to steampunk.
I hope you found this review useful. If you want to help me keep writing reviews, please vote on this review at my
EdenFantasys review page
.

Book by Collection of Stories by Various Authors
Format: Paperback
Publisher: Cleis Press Inc.