A review of "Pride and Prejudice: Hidden Lusts" by Mitzi Szereto.
I enjoy Jane Austen's books, I really do, though I'm not as fanatical about them as some people are. Their immense popularity has been proven by the proliferation of re-interpretations of her texts -- from a Bollywood movie ("
Bride and Prejudice
") to an undead version ("
Pride and Prejudice and Zombies
"). I think that Mitzi Szereto's
"Pride and Prejudice: Hidden Lusts"
is a wonderfully fun, tongue-in-cheek (and just about everywhere else) homage to the smart and sexy woman that was Jane Austen.
Have you ever played that late night party game where you go through a newspaper or log on to a news site, and as someone reads the headlines and/or articles aloud, they replace every reference to being killed or dying with the appropriate form of the word "fuck"? ("In a tragic accident earlier today, three people were fucked when their cars collided on the Hwy 69 overpass.") It's sort of sick and twisted, but when you're in the right mood, it's ridiculously amusing.
Well, that's sort of what Miss Szereto has done. Whenever anything in the original text had to do with social standing, social manners or any sort of class consciousness, she has changed it so that her characters are thinking about, talking about or performing some sort of appropriate (or more likely, inappropriate) sex act. If you approach it with an open mind, it is hysterically funny.
In the original "Pride and Prejudice", the youngest daughter, Lydia, is woefully lacking in refinement and is always making some sort of embarrassing social gaffe. In "Hidden Lusts", she is woefully lacking in restraint and is always making out with whoever, or whatever, she can find. In the original "Pride & Prejudice", when Mr. Darcy proposes to Elizabeth, he explains that she should marry him because it would improve her social position. In "Hidden Lusts", during his proposal,"Darcy released his manhood from the confines of his breeches, displaying it fully to her."
What makes
"Hidden Lusts"
especially amusing is that Miss Szereto does such an excellent job of imitating the writing style and general tone of Miss Jane Austen's work.
"Darcy for a moment seemed unable to move, but, at last recovering himself, he advanced toward Elizabeth, speaking to her in terms if not of perfect composure, at least of perfect civility. With each inquiry after her health and that of her family, she replied in kind, though she scarcely dared to lift her eyes to his face, her embarrassment was so profound. Had he been privy to her activities in the gallery [where she had just been masturbating], she could not have been more humiliated by the impropriety of her being discovered here. Her gaze flew about in all directions, eventually lingering on the flap of his breeches, which to her astonishment, projected outward to an alarming degree. The strain being placed on the garment eventually prompted a button to come loose, and it flew away into the grass, where it remained ignored by both parties." (p. 177-178)
Yet, despite the genteel style of the writing, the sex comes fast, furious and in all flavors. This is not some gentle behind the scenes sex expose. This is an in-your-face (as well as in-your-vag and in-your-ass) sex romp. The language is turn-of-the-(19th)century, but the action is turn-me-on-NOW! There are the expected heterosexual pairings, but there are also masturbation scenes, lesbian/gay pairings (and triplings), and a fair amount of BDSM.
Some fans of Austen's work have been offended by this literary porn parody of "Pride and Prejudice", but I can't help but think that Miss Austen herself would find it amusing. One of her earliest works, "Sir Charles Grandison or The Happy Man", was a parody of the textbook abridgment of her favorite novel. (
1
,
2
) Also, Austen biographer,
Claire Tomalin
, describes the heroine of Austen's epistolary novel, "Lady Susan",as a sexual predator. What little we know of Jane Austen's life from surviving letters and manuscripts suggests that she was a very intelligent and progressive woman with a sharp sense of humor. I think she would approve of Miss Szereto's work.
Although
"Pride and Prejudice: Hidden Lusts"
has attracted significant attention because of the
controversy surrounding it
, Mitzi Szereto has written and edited quite a few other books in the fields of erotica, multi-genre fiction and non-fiction, including the erotic anthology,
"Foreign Affairs"
which I
reviewed
last month. Other Szereto books include
"In Sleeping Beauty's Bed: Erotic Fairy Tales"
, "Getting Even: Revenge Stories", and "Dying For It: Tales of Sex and Death". Miss Szereto also maintains a weblog,
"Errant Ramblings"
, and a WebTV channel,
"Mitzi TV"
. She has given lectures on creative writing in several British universities and pioneered erotic writing workshops in the UK and Europe.
The actual book,
"Pride and Prejudice: Hidden Lusts"
is a nice quality trade paperback with a glossy cover. The front of the book depicts an attractive young lady pulling open the laces of a white dress; however, nothing naughty is actually shown. There is a short quote from the book in the upper right hand corner, and the title of the book is printed across the center in white with the sub-title in red slightly below it. Aside from the words "Hidden Lusts", the cover is no more provocative than many romance books, and is quite demure compared to some. The back features the same picture toned down and printed over with a short blurb and quotes from various reviews. The book measures 8" tall by 5" wide and is a little less than 3/4" thick. It is small enough and discreet enough to be carried and read just about anywhere.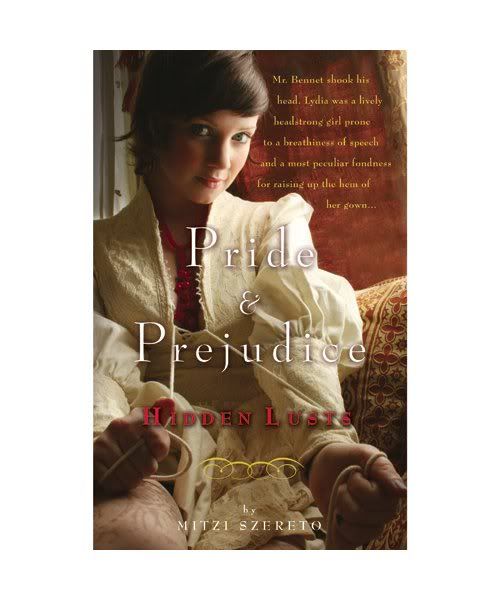 I quite enjoyed reading
"Pride and Prejudice: Hidden Lusts"
. It made me think, it made me laugh, and it turned me on – three very good qualities in a book as far as I'm concerned. I was extremely impressed by Miss Szereto's ability to write with the voice of Jane Austen, and even more impressed with her ability to say the raunchiest things in the most polite way. I would definitely recommend this book to anyone who can appreciate a clever parody of a classic or anyone who simply enjoys intelligent erotic wordplay. Of course, those who have read the original "Pride and Prejudice" will appreciate this parody all the more.
I hope you found this review useful. If you would like for me to keep writing reviews, please vote on this review at my
EdenFantasys review page
.

Book by Mitzi Szereto
Format: Paperback
Publisher: Cleis Press Inc.
This product was provided free of charge to the reviewer.
This product was provided to me free of charge by Eden Fantasys in exchange for an unbiased review. This review is in compliance with the
FTC guidelines
.